One of the first things you do when you get your new border collie is to give them a name. Heck, you might even have one already picked out before you even have your new dog picked out. Names come in all shapes and sizes and can vary based on sex, region, type, and even time period. But choosing a name can be the hardest part. Keep reading to get ideas from our guides and lists of border collie names.
Naming my first border collie
I remember when I first got my border collie Moby, I spent days before I had a new name for him. His name from the shelter was Kramer, and of course, I couldn't let him live with a silly name like that one.
I remember going through page after page, list after list, website after website, trying to find the name that suited him best. I even resorted to scrolling through my large collection of music on iTunes (Yes, iTunes was still a thing back then), when I found the perfect name for him, Moby.
Yes, he is named after the famed musician and animal lover, Moby. The name Moby is short and sweet, easy to say, ends in the high-pitched "e" sound, and suited him perfectly.
What makes a good border collie name
Naming your border collie can be the most fun, but it can also be the most difficult part in the beginning. There are thousands of names to choose from so picking the perfect one might seem impossible at first.
The first step to picking the perfect name is to start with what kind of name you want in the first place.
Some general guidelines
Remember that the name you give your border collie with be called tens, if not hundreds of times a day. Here are some general guidelines that you can follow when picking a name.
The name should be easy for your dog to recognize. Don't use a name that is hard to pronounce or difficult to say properly. The name should be one or two syllables because it is easy to call out and easy for your dog to understand.
There are plenty of suggestions when it comes to lettering, but the most common are ending the name with the hard "e" sound, a long vowel sound, or a short "a" sound.
The name should be one that you are proud to call your border collie. Don't name them something that you are embarrassed to say in public.
Try to avoid names that sound like a command that you will teach them or that they already know. For example, naming your collie "Bo" sounds a lot like "No". This will not only get all sorts of confusion, but it will also lessen the meaning of both.
Keep in mind the words that rhyme with your potential name, or are a shortened version of the name. Dog names inevitably get shortened, rhymed with, and changed around over time. Make sure the name is not something that will be embarrassing when slightly altered.
One more thing to consider is maybe choosing a less common name if you will be taking your dog to the dog park frequently. While this isn't as important as the others, if your dog has a common name, you might be calling other dogs as well when you're trying to get their attention at the dog park.
Types of Names
As I mentioned before, border collie names can have all different meanings and they can come from anywhere so figuring out which type of name you want is a good place to start.
The following are different types of names and some examples for each.
Names based on coloring or markings
One way to name your collie is to choose a name that is based on its coloring of markings. Depending on whether your collie is 100% border collie or a mix of other breeds, their coloring and markings can vary greatly.
For example, my border collie is mixed with a red heeler and he is full of reds and whites.
Collies can vary in color from black, white, chocolate, blue, red, and more. They can also be full of all sorts of interesting patterns that can sometimes allude to a perfect name for your dog.
Some examples of names based on coloring or markings could be:
Patches
Oreo
Chocolate
Panda
Rose
Sedona
Tiger
Honey
Names based on region
Another way to go about choosing a name is to pick a name based on the region of the name's origin. Irish, Scottish, Welsh, and English names are especially popular among border collies.
Scottish names are especially popular among border collies because this is the region where they came from.
Below are some examples of names based on region.
Scottish names:
Angus
Carson
Frazer
Laird
Kerrie
Skye
Cora
Irish names:
Braden
Kelly
Murphy
Gala
Tay
Killian
Welsh names:
Brynn
Deryn
Fargo
Reece
Yale
Dera
English names:
Charlie
Teddy
Luna
Poppy
Barney
Toby
Names based on attributes
Names based on your dog's attributes is another great way to go. Border collies are highly intelligent, quick on their feet, agile, and sometimes bossy. Names based on these attributes are a great way to go.
Some examples of names based on attributes:
Bolt
Breeze
Ranger
Whisper
Pal
Lucky
Silky
Traditional names
Traditional names are always an option as well. These are the kind of names that you would expect a traditional border collie to have.
While some might sound "old", they have been passed down for the many generations that border collies have been around.
Here are some examples of traditional names for both male and female border collies:
Jed
Rye
Ben
Tweed
Chester
Cap
Moss
Bess
Annie
Belle
Mist
Molly
Human names
Last but not least, are human names. While I'm not so much of a fan as others might be, human names are always an option as well!
Here are some examples of human names that would work well for a border collie:
Andrew
Brock
Lance
Oscar
Abbey
Jan
Jess
Tasha
Other kinds of names
The suggestions above are just some to get the ideas rolling.
There are probably thousands of names (Maybe even hundreds of thousands) out there. You could choose a more traditional name, or you could choose a name from a celebrity collie like Lassie. You could pick a name you think sounds cool or cute, or you could even name your border collie after a musician as I did.
The name you choose for your border collie is special for both you and them. There are no set rules that you must follow. Just go with what your gut tells you, or what you feel is the best name for your new best friend.
Now it's time for you to pick a name
Now it's time to pick a name for your border collie.
To make it easier for you, I have compiled a huge list of border collie names for both male and female dogs.
Male Border Collie Names
Abel, Ace, Albert, Aldo, Ali, Andrew, Archie, Aries, Armstrong, Astro
Bam Bam, Bandit, Barkley, Beluga, Benji, Blaze, Bo, Bobo, Bolt, Bossman, Bracken, Braden, Bret, Broc, Brock, Brody, Buddy
Cadence, Callum, Campbell, Captain, Chaos, Chase, Chaz, Chief, Chip, Chisel, Coach, Cody, Colt, Cory
Dakota, Danny, Dash, Domino, Dudley, Duke, Dusty
Eagle, Echo, Emerson, Eugene
Fable, Felix, Fiji, Flash, Fletcher, Fonzie, Frankie
George, Gino, Goober, Gusto
Hardy, Haven, Helix, Honor, Houdini, Hume, Hunter
Indigo, Irvin, Isla, Iver
Jake, Jasen, Jingles, Jinx, Johnson, JoJo, Juniper
Kato, Keeper, Killer, Kobe, Koda
Lance, Legend, Lennon, Leo, Liberty, Lightning, Lobo, Logan, Lucky, Lurk
Mac, Macbeth, Maccloud, Magneto, Marco, Marley, Marmaduke, Maui, Meadow, Miles, Miller, Mischief, Mist, Monty
Nacho, Nestle, Nexus, Nicky, Nico, Nike, Niro, Nugget
Oakley, Oliver, Oreo, Oscar, Ozzie
Panda, Pappy, Patch, Patches, Paws, Payton, Pepper, Peppy, Pookie, Popeye, Porter, Puma
Qantas, Quasi, Quirk
Rajah, Ramsey, Ranger, Rascal, Rebel, Reflect, Rio, Ritz, River, Robert, Ronnie, Rusty, Ryder
Sable, Sal, Sam, Sammy, Santo, Scooby, Scott, Scout, Scruffy, Sedona, Shade, Shadow, Shaka, Shep, Sheppie, Sky, Slinky, Smasher, Snoopy, Solo, Sonny, Speed, Spike, Sport, Spot, Stalker, Swift
Tag, Tahiti, Tank, Ted, Tiger, Toby, Top Gun, Trekker, Trysten, Tuffy, Tug
Udo, Urchin, Uzzah
Vasos, Vega, Vertigo, Viper
Waffles, Wagger, Waldo, Whiskey, Wilson, Winston, Woofer, Worthy
Yankee, York
Zack, Ziggy
Female Border Collie Names
Abbey, Abida, Abigail, Affinity, Alfie, Amber, Amor, Arielle, Ashes, Ashley, Athena
Baby Doll, Bella, Bera, Bernice, Beth, Betsy, Blondie, Blossom, Bonnie, Breezy, Bristol, Bubby
Cabo, Caddie, Cairo, Cameron, Cassidy, Cassie, Cece, Chalet, Chiquita, Chubby, Codi
Daisy, Dawn, Denali, Derna, Destiny, Dolce, Dolly, Dooley, Dora
Ebony, Elsa, Evira, Evita
Fable, Faith, Fancy, Fargo, Feather, Fiji, Foxy
Gabby, Gesha, Gidget, Glory, Goober, Grace, Gracie, Grits, Hannah
Hardy, Harley, Hay, Heather, Honey
Indigo, Iris, Isla, Ivy, Izzy
Jade, Jan, Jess, Jessie, Jewel, Jingles, JoJo, Juliet
Kade, Kali, Kashmir, Kayla, Kia, Kiki
Lady, Lara, Lassie, Lisa, Lucky, Lucy, Lyla
Macy, Mandy, Mango, Marilynn, Marley, Maui, Meadow, Medea, Merida, Merle, Mia, Milkshake, Milo, Mist, Molly
Natasha, Netty, Nibbles, Niva, Nora, Nugget
Oakley, Olive, Olivia, Opal, Ophelia, Oreo
Paddy, Pal, Panda, Paris, Patches, Penny, Pepper, Periwinkle, Perky, Persia, Petra, Pinta, Piper, Pippi, Polly, Pookie, Princess
Queen, Queenbee, Quina, Quinnie
Rain, Raisin, Ravel, Reflect, Rio, Ritz, Rose, Roxie
Sadie, Sally, Salty, Sam, Sasha, Scout, Shadow, Shannah, Shelby, Shona, Shontelle, Silky, Skye, Snookie, Sophie, Spark, Star, Sugar, Sunny, Suzie
Tamara, Tammy, Tasha, Tasita, Thea, Tinkerbell, Titania, Toasty
Urbana, Ursula, Utah
Verona, Victoria, Viola, Viper, Vita
Waffles, Wagger, Wasabi, Whitney, Woofer, Wynda
Xena
Yuri
Zebah, Zoe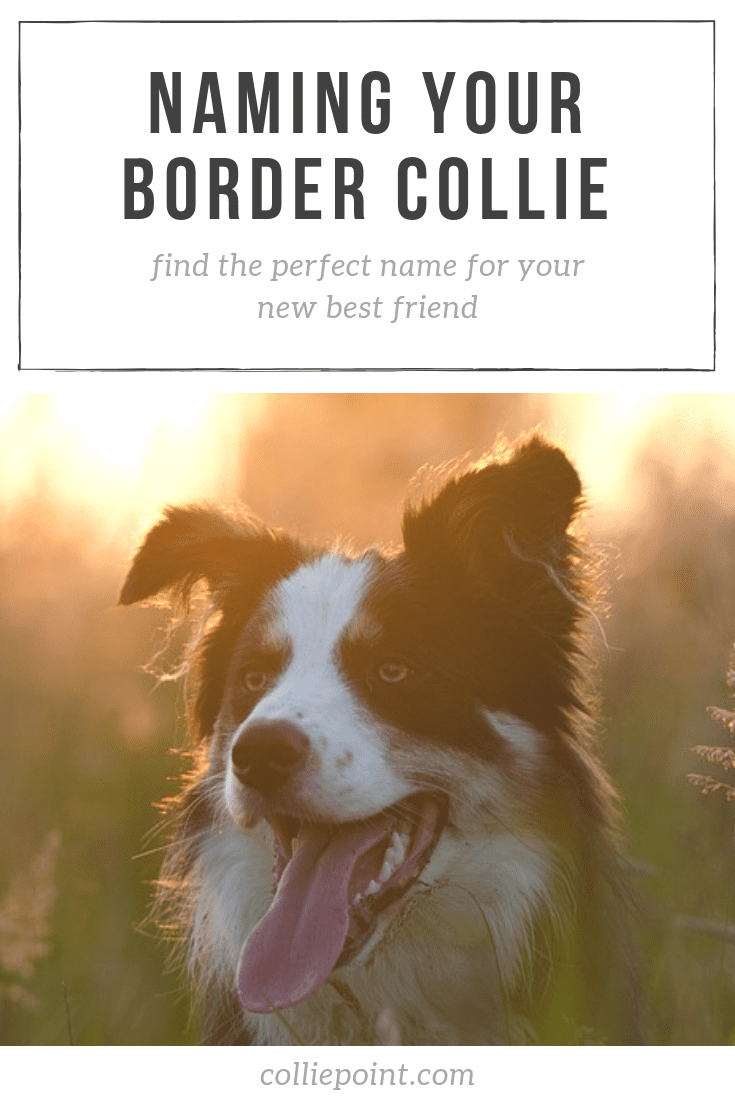 What's your favorite border collie name? Comment below!